Welcome to SeedStewards.
Seeds are living organisms. They contain genetic material, proteins and carbohydrates that provide everything the seed needs to transform into seedlings and then full size plants.
Seeds come in all sizes and colors and shapes. They have the ability to stay dormant for long periods of time and then germinate when environmental conditions are conducive to good growth.
The ability to save seeds for future plantings was discovered about ten thousand years ago and changed forever the way civilizations managed their food production. Communities were able to stay in one place to raise their food instead of moving from place to place in search of food growing in the surrounding environs. Seed saving remained an important part of farming practices until the early part of the 20th century when seed companies took over much of this work.
Today, a hundred years later, seed saving is a lost art. Saving seed allows us to preserve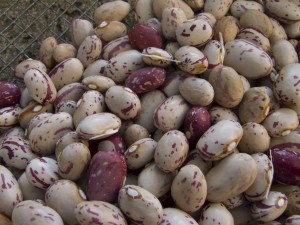 genetic material honed by thousands of years of natural adaptations. A wide genetic base allows gardeners and farmers to select from a multitude of traits and allows plants to adapt to a variety of climatic and soil conditions. Currently, nearly half of the 8000 varieties of seeds listed in the 6th edition of Garden Seed Inventory, published by Seed Savers Exchange, are available from only one commercial grower. If any one of those growers stop growing a variety to produce new viable seed, that genetic material, its traits and its history are lost forever. SeedStewards believes it is vitally important for gardeners, backyard growers, and farmers to take up the call and adopt varieties that are in danger of becoming unavailable before it is too late.
Please read more about my efforts in the following pages and please contact me if I can provide more information about this important work.